Towards Outstanding Engagement event highlights successes of its first cohort
Another busy and fulfilling week albeit a bit shorter due to the bank holiday - I hope people who weren't working had a great sunny bank holiday and a massive thank-you to those of you who were working. We had quite a few events and lots of excitement!
Towards Outstanding Engagement event highlights successes of its first cohort 
The week began with a great celebration event on Tuesday of the first cohort of our staff to go through our Towards Outstanding Engagement programme. The event was given across the Trust's social media channels, what a great and fun event it was and how much fantastic achievement and dedication from our staff it highlighted.
It was also great that the event was attended by our Chair, David Rogers, as well as our Non-Executive Directors Lorien Barber and Joan Walley - and ably chaired jointly by our Executive Director of Workforce, OD and Communications Alex Brett and our Executive Director of Operations, Jonathan O'Brien. It shows the strong commitment of our senior leadership to the programme.
The Towards Outstanding Engagement programme is carefully designed and structured to allow teams across the Trust to really understand and own their own improvement in a robust and planned way. By assessing their own strengths and development areas both at the outset of their journey and at its completion, they are able to plan a tailored improvement journey that really means something to them and is built on their own reality.
And the effect and results speak for themselves. The average increase in engagement scores across the teams was 5.6%, with some teams seeing improvements as large as 12.8% increase in their engagement scores. Each team is at a different stage and are all being supported to continue their work to improve staff engagement - it's clear that the programme is being owned, valued and embraced by the full range of services and operations we provide.
Those of you unable to attend the event can capture an idea of the celebratory atmosphere though a short picture showreel produced by the Trust - as well as by watching a fantastic film produced by our Performance Team and unveiled at the event. Simply click on the images below.
Listening into Action event focuses on developing our support for BAME staff
Wednesday saw our latest Listening into Action event, which was a special event particularly focussing on our continuing efforts to support and develop our Black Asian and Minority Ethnic (BAME) staff. This is something that is a particular priority for me and I was delighted to open and chair the event, supported by our Medical Director Dr Buki Adeyemo, our Executive Director of Nursing and Quality, Maria Nelligan and Alex Brett.
We've taken significant strides forward in that past year, including
being appointed as an NHS Employers Diversity and Inclusion Partners Programme Diversity Champion;

being commended by the CQC for progress on developing our approach to Diversity and Inclusion;

holding our first Trust BAME Focus Groups for service users and staff with Yvonne Coghill, Programme Director from the NHS England Workforce Race Equality Scheme (WRES); and
launching our Trust BAME Staff Network, led by Cherelle Laryea, Trainee Clinical Psychologist.
But we know there is much more we can and should be doing - our WRES survey showed that some of staff felt Combined could be doing more to make our Trust a great place to work for BAME staff. At the LIA event we had great ideas for what we need to do and people volunteering to get involved, so that was great.  
We are also prioritising this as part of the Staffordshire STP system leadership/OD programme. We plan to collaborate across our organisations and support BAME Leadership Programmes for which we have been awarded £50,000 funding to deliver.
Flying the flag for Combined at the Positive Practice Mental Health Collaborative
I was pleased to attend the positive practice CEO dinner and conference last week with Maria Nelligan. The national Positive Practice Mental Health Collaborative is a user-led, multi-agency collaborative of 75 organisations, including NHS Trusts, CCGs, Police Forces, third sector providers, front line charities and service user groups. Its aim is to identify and disseminate positive practice in mental health services by working together across organisations and sectors, to facilitate shared learning and to raise the profile of mental health with politicians and policy makers.
We're strong supporters and active members of the Collaborative, and it was great to be able to attend the first ever Collaborative Convention and Learn and share with other mental health organisations.
We have been asked to start a national substance misuse collaborative which Dr Derrett Watts our Clinical Director for substance misuse will be leading. Some of the Exec Team have also been asked to be on the judging panel for the positive practice awards so please submit your innovative projects - we won last year with the innovative Meir Project - would be great to do so again. You can find out more details by clicking here.
CQC System Improvement
I was also pleased to chair our CQC system improvement delivery board last week. We have been working together as a system for some months now and some really great improvements are now being delivered. The Stoke Council Delayed Transfers of Care have reduced significantly and the Council's ranking in the country has gone from the bottom to the top third - really well done!
The innovative collaborative care homes project led by the GP Federation in partnership with SSOTP, Combined and Douglas Macmillan hospice is showing a 16% reduction in attendances to A&E - really well done to everyone.
Patient Safety Awards
On Wednesday, the Trust dispatched two teams to London to present our excellent work around Patient Safety. The Trust has been nominated twice in the category of Mental Health and Learning Disabilities in the national Patient Safety Awards.
The Learning Disabilities team presented to a judging panel of eight national experts on the programme of medication reduction in the Learning Disability Inpatient Service, whilst a second team presented to the same panel on the work of the High Volume User Service, which operates in collaboration with the British Red Cross and University Hospitals of North Midlands. I would like to extend congratulations to both teams for their efforts and for representing the Combined Healthcare at these prestigious awards and I look forward to hearing the outcome from the awards celebrations, which are being held for finalists in Manchester on 9 July 2018.
A VERY Happy Nurses Day!
As a nurse by clinical background myself, I know just how central our nurses are to what we do. So it was simply wonderful to be able to round off the week by kicking off our celebrations of Nurses Day with our second Annual Nursing Conference. Congratulations are due to Maria Nelligan, Julie Anne Murray, Amanda Miskell and the working group for putting on a fantastic day-long celebration of everything our nurses do and what they achieve.
It's a tribute to our growing reputation that we were able to attract some first-rate external speakers to be part of the Conference, including Siobhan Heathfield, Regional Nurse for NHS Improvement and the inspirational Tommy Whitelaw, who is a great friend to the Trust and a national champion for nursing.
The day featured workshops on such diverse topics as suicide awareness, understanding health inequalities and asylum-seeking. It also gave our team across the Trust the opportunity to show off a range of Pledge Trees produced to show what they have done to date and what they commit to do in the coming year.
I was immensely impressed with the massive amount of poster presentations from so many teams. This really demonstrated the amazing work that you do day in day out.
So many teams had articulated the improvements and changes they were making for service users and careers with a real evidence base - many congratulations to our nurses!!
We live streamed the main session for the event, which you can watch via our Facebook page by clicking on this link at www.facebook.com
The day was rounded off by every one of our attendees being presented with our Combined Nursing Badge and delivering a Happy Nurses Day message via Twitter to their colleague across the NHS, and I had the great fun of being able to present Maria Nelligan with her own badge!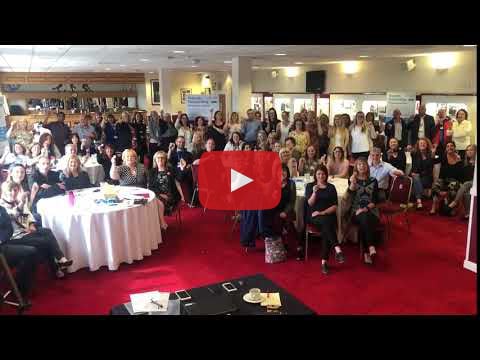 Annual REACH Awards nominations deadline now only a fortnight away!
Can I continue to remind everyone that the other great way we recognise staff achievements is through our annual REACH Awards, taking place this year on the NHS 70th Anniversary on 5 July. Nominations are open and the deadline is now only a fortnight away! 
I would urge you all to take this opportunity to have a think about a person or team who you know who have done great things and nominate them for a REACH Award.  
You can do so really easily via the REACH website at http://www.reachawards.org/nscht/
THE DEADLINE FOR SUBMITTING A NOMINATION IS FRIDAY 23 MAY - SO DON'T MISS YOUR CHANCE TO CONGRATULATE AND GET RECOGNITION FOR SOMEONE YOU KNOW